Sunday, November 3, 2013
Renee and I just had our offer accepted on this beautiful house!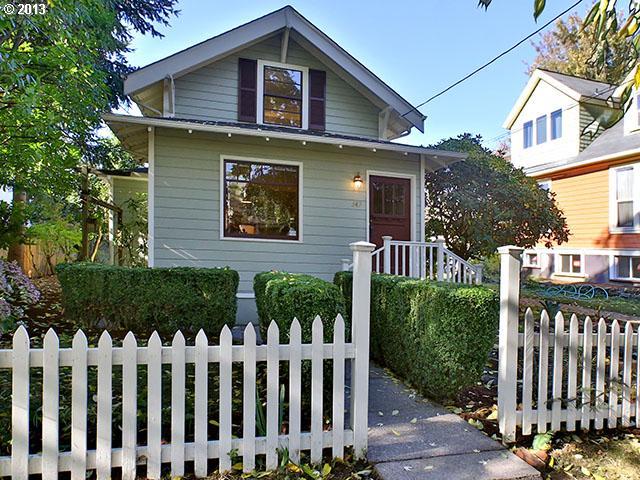 CLICK HERE TO SEE IT!
Posted by

Brian Cook
at 2:54 PM
No comments:

Saturday, September 14, 2013
Before summer ended, we decided to go out and pick some berries at Sauvie Island! Renee was like a little berry picking MACHINE!
Her hands got rather stained after all the furious picking!
Posted by

Brian Cook
at 11:05 AM
1 comment:

Tuesday, August 6, 2013
A month ago we look a big trip back to the East side of the country. It was the first time we got to fly with Olive. We took the red-eye from Portland to Detroit, so that may account for how sleepy Renee and Olive look in this picture.
However, they were both excited to be on solid ground after landing!
When we arrived in Romeo, we learned that Carla's son Levi had learned a few new things since the last time we saw him.
It was hot and humid in Michigan, so we spent some time cooling off (and juggling) in the pool. Levi thought it was a little crowded.
On the 4th of July we had a cooking competition. Three teams got 1 hour to create a dessert using the secret ingredient of poppy seeds. Each team was scored by a group of non-partial judges. The overall winners were Mike and Brian who created this fabulously delicious dessert sushi using rice krispie treats and fresh fruit.
After a week in Michigan we hit the road to spend a week in New York City.
We drove into New Jersey, parked our car and then took the train into NYC.
It's hard to tell from these pictures, but it was extremely humid and about 98 degrees when we got there. The news said that with the humidity it was more like 105-110.
And you don't even want to know how hot the subway was!!!
We booked an apartment in the West Village, which was very cute! When we arrived at the apartment we realized that it was a little more cute than we had planned on (see the video below!)
Here's a tour of our spacious living!
This is a picture of the entire apartment. Brian is standing with his back to the entry door, holding the camera above his head.
Because it was so darn hot, we spent our first few days touring art museums during the peak heat hours! We saw a lot of famous art, and made a lot of funny faces.
One of Renee's favorite pieces was the Temple of Dendur at the Met. It is a real Egyptian temple that was given to the U.S. after we made a considerable donation to Egypt to help them preserve some historic temples that were being flooded by the Nile. This room was built to house it and it follows the exact same measurements as the original layout of the temple (including a simulated Nile which is not pictured)
While we were walking around we stumbled across the Google headquarters. The building was one of the largest we've ever seen and took up an ENTIRE NYC block! The building is almost 3 million square feet and is listed as the third largest building in Manhattan! It only cost 1.9 billion dollars apparently - what a steal!
After that it was on to Battery park to see the Statue of Liberty! Can you spot her?
.
.
.
.
.
.
.
.
.
.
Did you see it yet?
Do you need a hint?
.
.
.
.
.
.
.
.
THERE it is!
That afternoon we stopped by the Corner Bistro, often referred to as the "best burger in NYC" - Brian had visited almost 10 year ago, and couldn't wait to go back!
It was Renee's first time having a burger there and they did not disappoint!
You can access the park from any of the old entry stairs to the train platform.
Once in the park you are in an entirely different world. It is breezy and beautiful, and all the noises of the city below are faint and muffled. It was a perfect place to relax and watch the sunset at dusk.
Each section of the path is landscaped differently, some with grass, some with shallow water to wade in, open lawn to relax in, or chairs to wit in and watch the skyline.
The path even travels through the center of a few larger building (including and old Nabisco factory).
It was one of the coolest things we experienced in NY, and seemed to be a perfect night to stroll the both. There were a few ice cream vendors, and we stopped for some dessert. The best way we can describe it is a very futuristic version of nature. Really incredible, highly recommended!
The next morning we visited Chelsea Market, which is housed in the old Nabisco Factory we had walked through the night before! There were lots of great little shops and restaurants!
Brian insisted on stopping by the famous restaurant from Seinfeld.
We wandered into Saint John the Divine Cathedral. There was a very interesting, very strange, rather creepy art instillation there by Jane Alexander. As we wondered the cathedral we kept bumping to strange little sculptures of odd creatures.
Renee was determined to stop by the extremely famous designer fabric store, Mood. Let's just say they did not disappoint! The owner even gave us a free bag!
Fortunately the theater had AC, and the show was stupendous!
After the show we wandered around times square to see all the lights at night!
The next morning we took the subway to Brooklyn to meetup with an old friend.
Our decision to leave our car in New Jersey was confirmed as a smart one after we read this sign. Apparently New Yorkers do not mess around when it comes to parking.
After so much adventure we took some time that afternoon to sit and sketch.
Afterwards Renee got very excited when she found a store that only sold macaron cookies! She hadn't been able to find them anywhere in NYC!
One of Brian's main goals was to visit the oldest bar in America. It has remained basically unchanged since it opened in 1854! Abraham Lincoln used to go there! The walls were covered in old stuff - one of the regulars pointed out JFK's death certificate behind the counter - how it got there? Who knows! We chatted with the bartender (who has worked there 40 years), and a nice gentleman who has been coming there for even longer! If fact, he remembered when women weren't allowed in! He told us that the men weren't thrilled when NYC finally passed a law that required them to admit women.
These wish bones were hanging on the light above the bar. We asked what the deal was. The bartender told us that a group of young men hung their wishbones up there before World War I! The soldiers that came back took theirs back off, the ones that remain were never claimed.
All this history even inspired Renee to try one of their beers (they have two kinds that they make, dark and light).
After the light refreshments and conversation we were ready to tackle the hike across the Brooklyn Bridge.
It was not a bad view!
We ate dinner on the pier, looking back at Manhattan as the sun set. Not a bad way to end the trip!
The next day it was back to Michigan (Holland this time) for some beach, sun and relaxation.
Carla, Mike and Levi even joined us after a few days. This was Levi's first time seeing Lake Michigan!
He seemed to enjoy it!
Holland was much more relaxing than New York. We sat around...
Did each other's hair...
Went for bike rides...
And read books...
All in all, a great way to end the trip!
Posted by

Brian Cook
at 11:33 AM
1 comment: